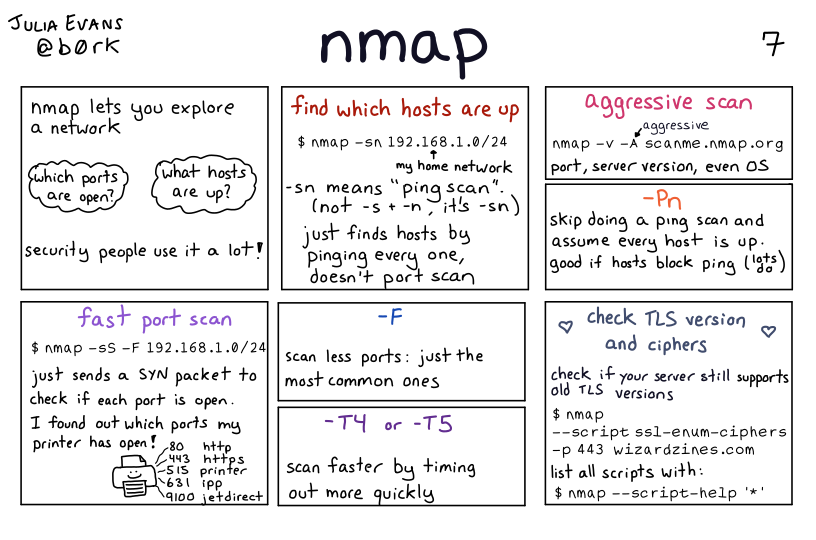 browse more comics!
get the zine!
read the transcript!

nmap lets you explore a network

which ports are open?
what hosts are up?
security people use it a lot!

find which hosts are up

$ nmap-sn 192.168.1.0/24
168 is my home network
-sn means "ping scan". (not -s-n it's -sn)

just finds hosts by pinging every one, doesn't port scan

aggressive scan

nmap -v -A scanme.nmap.org
-A = aggressive
port, server version, even OS

-Pn

skip doing a ping scan and assume every host is up. good if hosts block ping (lots do)

fast port scan

$ nmap -SS-F 192.168.1.0/24

just sends a SYN packet to check if each port is open.

I found out which ports my printer has open!

80 http 
443 https 
515 printer
631 ipp 
9100 jetdirect


-F

scan less ports: just the most common ones

-T4 or -T5

scan faster by timing out more quickly

♡ check TLS version and ciphers ♡

check if your server still supports old TLS versions

$ nmap
--script ssl-enum-ciphers
-p 443 wizardzines.com


list all scripts with:
$ nmap --script-help '*'
Saturday Morning Comics!
Want another comic like this in your email every Saturday? Sign up here!

I'll send you one of my favourite comics from my archives every Saturday.