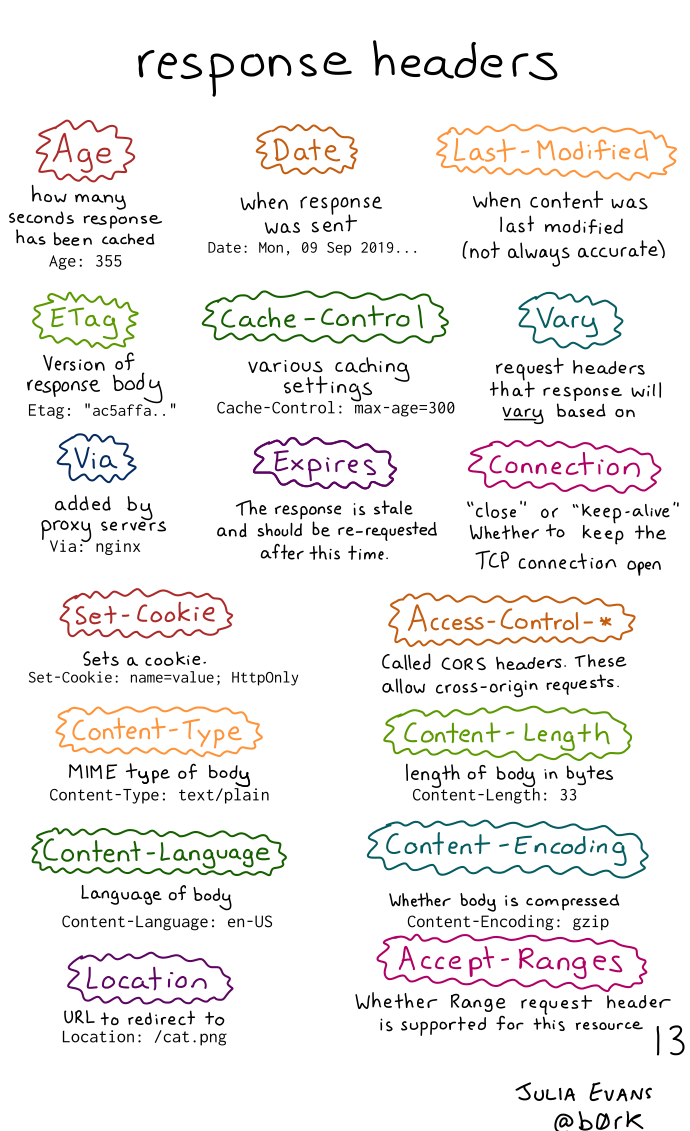 browse more comics!
get the zine!
read the transcript!

Age

how many seconds response has been cached
Age: 355

Date

when response was sent
Date: Mon, 09 Sep 2019...

Last-Modified

when content was last modified (not always accurate)

ETag

Version of response body
Etag: "ac5affa.."

Cache-Control

various caching
settings Cache-Control: max-age=300

Vary

request headers that response will vary based on

Via

added by proxy servers
Via: nginx

Expires

The response is stale and should be re-requested after this time.

Connection

"close" or "keep-alive" Whether to keep the TCP connection open

Set-Cookie

Sets a cookie.
Set-Cookie: name=value; HttpOnly

Access-Control-*

Called CORS headers. These allow cross-origin requests.

Content-Type

MIME type of body
Content-Type: text/plain

Content-Length

length of body in bytes
Content-Length: 33

Content-Language

Language of body
Content-Language: en-US

Content-Encoding

Whether body is compressed
Content-Encoding: gzip

Location

URL to redirect to
Location: /cat.png

Accept-Ranges

Whether Range request header is supported for this resource
Saturday Morning Comics!
Want another comic like this in your email every Saturday? Sign up here!

I'll send you one of my favourite comics from my archives every Saturday.